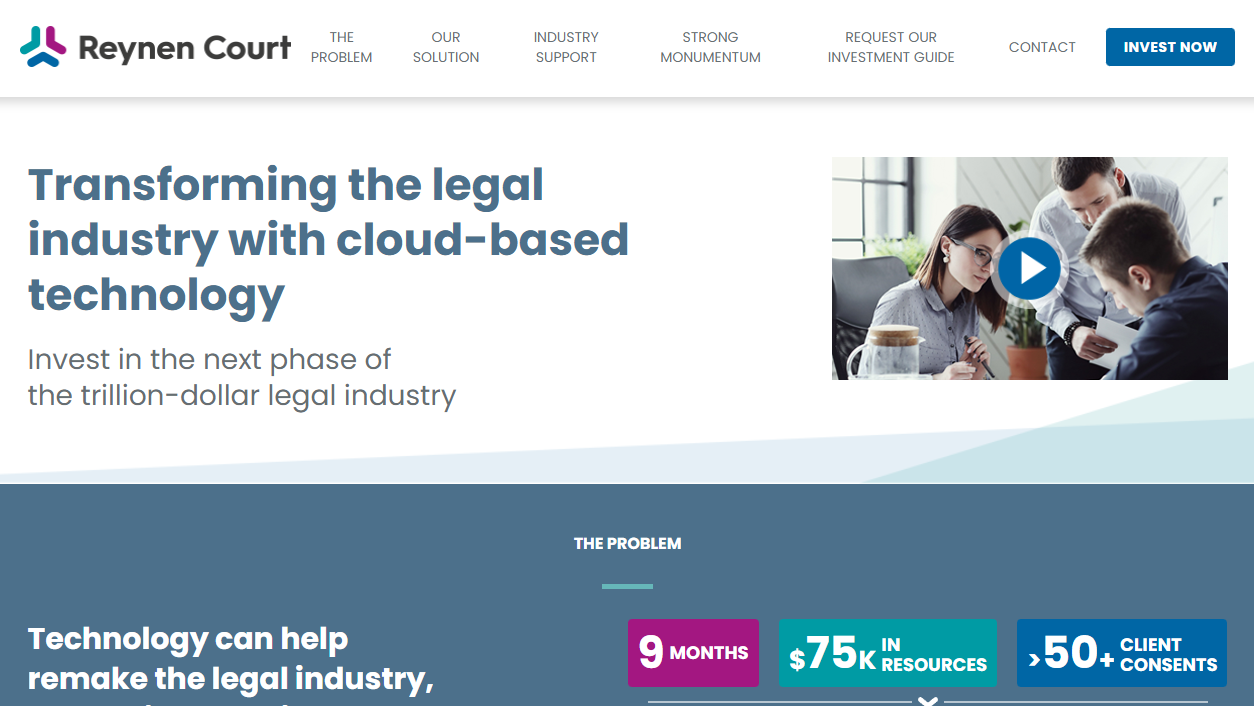 Reynen Court, the so-called app store for legal technology, today launched a general solicitation stock offering in order to bring on individual lawyers and "legal technology enthusiasts" as investors in the company. 
The offering, which is described at invest.reynencourt.com, is being made under Rule 506(c) of the federal securities laws, which provides an exemption to the general prohibition against issuers broadly soliciting and advertising an offering. 
Under Rule 506(c), purchasers must be U.S.-based "accredited investors," which generally means that they meet certain income and net worth requirements, and the issuer must verify that purchasers meet this requirement.
Purchasers receive restricted securities, which are previously issued securities that are not freely tradable.
Reynen Court has already received $19 million in investment capital from venture funds and four major law firms, including $4.3 million raised earlier this year. This offering is an extension of that recent round, the company said.
Reynen Court said this online offering "is groundbreaking in its use of social media and other forms of general solicitation to attract individual shareholders to a mission to help define, adopt, and support technology standards designed to drive down costs for both the buyers and sellers of technology."
"We believe passionately in the power of community," said founder and CEO Andrew Klein. "We intend to secure capital to fuel further growth and at the same time greatly enhance our alignment with the larger legal community—the very lawyers, technologists, and innovation professionals who are the real drivers of our industry's future."
Klein is no stranger to online public offerings. In 1992, the Harvard Law School graduate was an associate at Cravath, Swaine and Moore when he left to start a brewery. In 1995, to raise money for the brewery, Klein applied his experience as a securities lawyer to launch the first-ever initial public offering sold through the Internet.
As Klein described in an episode of my LawNext podcast, the success and notoriety of that IPO led him to launch Wit Capital, an investment bank dedicated to helping other companies raise money online. The company flourished, recording more than $350 million in annual revenues, and itself went public in 1999. Ultimately, Wit Capital was acquired by Charles Schwab.
After Wit Capital was acquired by Charles Schwab, Klein moved to Amsterdam where, over the next 15 years, he co-founded two asset management firms, Skybridge Capital and Ultra Capital, and, in between those ventures, created and led Spotzer Media, a provider of digital advertising solutions to local businesses.
Founded in 2018, Reynen Court's platform is designed to make it easier for law firms and legal departments to find, test, adopt and manage third-party cloud-based software applications without having to relinquish control over their data.